From rich velvets to celestial trinkets, whimsigoth is the mystical home design trend sure to spread magic throughout your space…
What is Whimsigothic Decor?
The introduction of whimsigoth existed primarily from the late '80s to early '90s, appearing in pop culture through shows such as Charmed, Sabrina the Teenage Witch and Buffy the Vampire Slayer.
Celebrating both whimsical and gothic aesthetics, this look has historically been favoured by witchy women looking to combine the light and ethereal with the dark and moody; sprinkled in are always elements of botany, withcraft and maximalism.
Want to know more about the history of the whimsigothic aesthetic? Check out our in-depth blog post here.
In terms of the interior design trend, this style lends itself to those looking to create both a homely and totally unique space.
According to home decor specialist Sydney Meister, the style is a "balancing act in and of itself where warm, earthy jewel tones and sprawling greenery are offset by edgy, mystical decor."
8 Ways to Achieve Whimsigothic Decor:
1. Include Jewel Tones
While this movement is rooted in goth culture, we certainly won't be sticking to an all black colour scheme. Jewel-toned walls, rugs or furniture provide the regal yet boho feel the whimsigothic look is known for. Think amethyst purple, emerald green and ruby red; deep and rich shades inspired by precious crystals.
Warm hues of amber are equally as important; creating a cosy, golden hour ambience, reminiscent of crackling flames and autumnal sunset. Colours is are known to set the scene, trigger subconscious moods and evoke an emotional response; this is an essential tool when creating an atmosphere with whimsy and mysticism at its core.
2. Collect an Array of Greenery – Hop on the Plant Trend
Plants aren't just reserved for cottagecore spaces, they are essential in any whimsigothical home! Whether vines draped along the wall or herbs hanging from the ceiling, there is something about bringing the outside in that works so well with this trend.
The botanical vibe is perfectly captured in '90s cult classic Practical Magic, think sipping midnight margaritas in the Owens sisters' plant filled conservatory. Whether you want to buy from a garden centre or grow your own, start collecting anything and everything to achieve this look.
3. Play with textiles – Velvet & Lace
Mismatched textures throughout are quintessential to the whimsigothic style, imagine a Stevie Nicks outfit in the form of interior design. Materials and textures like velvet throw pillows, lace curtains and embroidered quilts provide the perfect balance of gothic and whimsy.
Think reams of sheer drapery hanging from a dark wood bed frame, or luxe antique furniture framed with a heavy hand-woven tapestry. A key thing with this design style is no two whimsigothic rooms will look the same, creativity and originality are paramount to achieve the look.
4. Add Dramatic Wallpaper or a Gallery Wall
Whimsigothic design is heavily influenced by antique and vintage collections, it has also been said to take inspiration from elements of art deco; dramatic wallpaper is an easy and impressive way to achieve these decor styles. Damask wallpaper or florals were incredibly popular in the victorian era, lending themselves nicely to the gothic look. Art deco takes on a more new style, featuring celestial themes with gold accents and jewel tones.
Want to try something else? Curate a gallery wall, this interchangeable option can feature antique frames and thrifted art work, providing a more personal aesthetic to your space.
5. Create your own Apothecary
Revamp your kitchen with apothecary jars – instead of hiding your herbs and spaces away in the cupboard, put them on display! Go full kitchen witch with shelves full of charming mason jars; the whimsigothic trend has always gone hand in hand with witchcraft, why not show off the tools of the trade.
Combine practicality with mystical decor! Hang dried herbs from the ceiling within arms reach, prop a rustic broom in the corner ready for use, or invest in a beautiful mortar and pestle to both grind spices and leave out as decoration.
6. Add a Candelabra or Light Candles Throughout your Space
Of all the whimsigothic decor pieces, candles are arguably the best starting point, they're not just for spooky season! Turn down the lights and watch the flames dance, creating a magical glow across the room. Depending on the colour, a lot of candles carry significant symbolism in witchcraft, look up candle magic and light the colours most beneficial to you.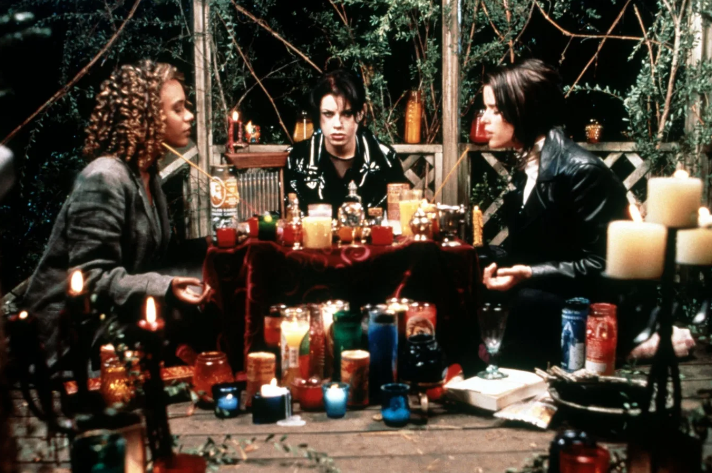 As with all things in this movement, a mismatched collection is best! Candelabras, pillar candles, tea light holders or lanterns; all of the above will add a touch of ambience.
7. Collect Antique Furniture & Thrifted Trinkets
As with all witch based aesthetics, this trend is verging on cluttercore! Antique shops and thrift stores are your best friend when curating a personal collection that is a combination of whimsical and gothic pieces. Where else might you find celestial patterned throws next to wrought iron furniture.
Think Howl's bedroom in Studio Ghibli's Howls Moving Castle, the more interesting objects to bejewel the space the better. Sun catchers hanging from the window with crystals dotted along the frame, dramatic gold mirrors and art nouveau paintings hanging on the wall, an ash try stand filled with burning incense; collect pieces you love and display them in fantastical ways!
8. Create your Dream Bedroom
When it comes to whimsigothic bedrooms, Sabrina the Teenage Witch is the blueprint. Of all rooms in the house this should be the most cosy and personal to you! Create space for rest and relaxation as well as your hobbies.
Maybe a book nook with a bean bag and shag carpet, surrounded by hanging lights and wooden bookshelves; or maybe a space for tarot and divination, include your altar and crystal ball.
Look for whimsigothic clothing and display on open rails covered in vines.
Good Luck Creating your Whimsigothic Room!
We are so thrilled to see the resurgence of this iconic '90s style. With TikTok's whimsigothic hashtag currently at 69.8m views we are sure this trend will continue to take the internet by storm.