Spooky Season is finally upon us… grab your coven & get cosy with these iconic witchy films!
As the cold weather rolls in and a mysterious fog hangs in the air, what better way to settle into autumn than curling up with 13 of the best witch movies of all time! 
The Best Witch Movies to Watch this Fall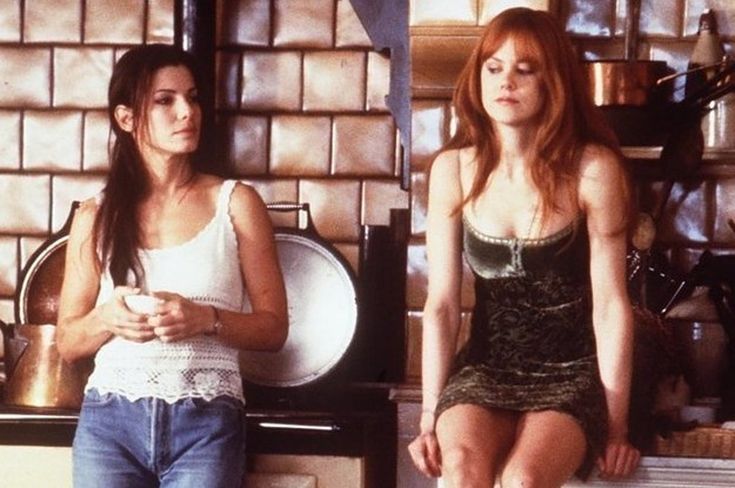 1) Practical Magic
A magical dose of '90s goodness! This 1998 cult classic stars Sandra Bullock and Nicole Kidman as sister witches, Sally and Gillian Owens. As witch flicks go, Practical Magic remains one of the most popular movies to watch around Halloween.
Following the death of their parents, the sisters grew up living with their aunts in a beautiful but secluded home off the coast of Massachusetts. They are descended from a long line of magical women who have unfortunately been cursed, this curse means that any man they love is destined to be doomed. As they head off on their individual paths the curse works its way into their lives in different ways. Gillian winds up falling in love first, closely followed by her sister; the arrival of a police detective only continues to complicate matters.
Expect the most stunning home you have ever seen, revenge killing and an unforgettable midnight margarita dance party! Plus Nicole Kidman and Sandra Bullock in their finest '90s wardrobe, what's not to love?
2) Hocus Pocus
This list could never be complete without family favourite, 'Hocus Pocus' (1993). Starring Bette Midler, Kathy Najimy, and Sarah Jessica Parker as the Sanderson sisters, this classic is without a doubt one of the best Disney Halloween films of all time.
The sisters were initially accused of witchcraft and put to death in 17th century New England, during the Salem witch trials. Winifred uses her exceptional magical powers to save the trio with a curse, they must remain hidden in the dark unless the Black Flame Candle is lit on Halloween during a full moon. 300 years later an unsuspecting young boy brings them back to life. The film follows their comedic hijinks as they chase down their next victim.
This film is perfect for a wholesome spooky movie marathon! The sequel, Hocus Pocus 2 (2022), was released 29 years after the original and does an amazing job of providing essential nostalgia with a fresh modern twist.
3) Kiki's Delivery Service
Looking for a gentle film with comforting artwork and a beautiful soundtrack? Look no further than the Studio Ghibli masterpiece, 'Kiki's Delivery Service' (1989). This little witch will warm your heart and soothe your soul!
This coming of age story follows Kiki, a young witch who uses her broomstick to leave home and fly to a European seaside village. She must find her footing and master her powers during a mandatory year of independence. Along the way she meets many delightful characters, including a forest dwelling artist and her talking cat companion, Jiji.
Charming and cheerful, this is an adorable story told in a signature Studio Ghibli style.
4) The Witches of Eastwick
If you are looking for an iconic witch to dress as this Halloween, we highly suggest watching 'The Witches of Eastwick' (1987). Alex, Jane and Sukie are played by the legendary trio of Cher, Susan Sarandon and Michelle Pfeiffer, while Jack Nicholson co-stars as Daryl Van Horne.
Following the loss of their partners, the women feel unfulfilled and bored in their hometown. Mysterious Daryl Van Horne comes to town and appears to make their dreams come true. They soon realise Daryl is crude and vulgar; learning why he is able to lure them in, the witches experiment with magic of their own.
Expect the best '80s costuming you have ever seen, an insane star studded cast and dated but delightful special effects.
5) The Wizard of Oz / Return to Oz
Here we have two movies featuring witches that scarred children's nightmares across the land. While 'The Wizard of Oz (1939) remains a universal childhood classic, 'Return to Oz' (1985) is nothing short of surrealist nightmare fuel, perfect for Halloween!
Featuring Dorothy, Glinda the Good Witch and the Wicked Witch of the West, 'The Wizard of Oz' is responsible for green depictions of witches across decades of pop culture and full of some of the best witch quotes there are. This family staple is sure to be a crowd pleasing watch this fall.
However, it can't be denied that 'Return to Oz' is a sure pick for unsettling childhood fever dream vibes. With an opening that features Dorothy shipped off by Aunt May to undergo electric shock therapy, a post apocalyptic style land of Oz in tatters and a witch that can remove her own head; we think this is an essential watch this spooky season.
6) The Blair Witch Project
Who doesn't love a horror film shown only by camcorder footage? 'The Blair Witch Project' (1999) premiered at Sundance Film Festival and stars Heather Donahue, Michael Williams and Joshua Leonard, performing under their own names. During the promotion of this film each performer was listed on the poster as 'deceased' or 'missing'.
The film follows three best friends who went missing while making a documentary on the legend of an ancient witch supposedly located in the Black Hills. A year later the footage is found, this is what we see in the film.
This is the perfect choice for a Halloween movie filled with jump scares and witchcraft at it's creepiest!
7) Teen Witch
This cult classic follows high-school nerd Louise Miller, played by Robyn Lively, as she discovers from a fortune telling sorceress that she has come from a family of witches and will inherit magic powers on her 16th birthday.
The teenage witch uses her newly found magic to become the most popular girl in school, take revenge on her bullies and make her high school crush fall in love with her. She soon discovers having everything she ever wished for isn't all it's cracked up to be when things start to unravel!
Featuring several rap musical numbers, '80s high school tropes and a reputation as the ultimate guilty pleasure, this is one of the funniest witchy films to watch this autumn.
8) The Craft
Probably our favourite of the witchy movies on this list! 'The Craft' (1996) is a tale of three outcast high schoolers searching for a fourth member to complete their witch coven. Once the girls unite, their powers grow and things quickly start to go awry.
Nancy Downs, played by the absolutely iconic Fairuza Balk, soon succumbs to the temptation of black magic and becomes a bad witch. This sensational performance of gleeful anarchy has cemented Nancy as one of the best witch characters of all time.
This is the ideal film to watch with your own coven! Include the sequel, 'The Craft: Legacy' (2020) for a movie marathon moment.
9) Twitches
'Twitches' (2005) is a Disney Channel original movie and perfect for family viewing. The film stars Tia and Tamera Mowry as Apolla and Artemis, twins who were born on Halloween night to royal witch Miranda and named after the gods of the sun and moon.
The tale begins while the sisters are still infants, in an effort to protect them from dark forces they are taken to the Earth realm and adopted by two separate families, they both grow up unaware they have a twin. Once they have grown into teenagers they accidentally bump into each other while shopping and begin to uncover the powers that have been hiding all along.
If you're looking for a lighthearted, child friendly film this is a perfect choice!
10) The Witches
A Halloween classic, 'The Witches' (1990) is a dark comedy fantasy film based on the Roald Dahl book (1983).
The tale follows a young boy who's grandmother is a retired witch hunter, he stumbles across the Grand High Witch in a hotel, gathering hundreds of women into a suspicious meeting. Once they are alone it is a revealed every attendant is secretly a witch plotting to kill every child in England.
This nostalgic film lives in most of our childhood memories for the dramatic reveal of hundreds of scary witches with gruesome prosthetics!
11) The Last Witch Hunter
Vin Diesel stars as a Witch Hunter named Kaulder in this action packed fantasy film. Set in the modern day, this epic tells the story of a a valiant warrior cursed with immortality who has been fighting witches for centuries.
Through his infinite existence Kaulder has been seperated from his wife and daughter who he longs to reunite with in the afterlife, he is also the last of his kind left on earth. Although the all-powerful Queen Witch was killed years earlier, she makes her come back to seek revenge on Kaulder, putting the entire human race at risk.
This is the perfect option if you prefer a fast paced film with lots of action.
12) Bell, Book and Candle
The Bell, Book and Candle (1958), is a classic film about a witch named Gillian played by Kim Novak. She lives in an apartment block in Greenwich Village when a new neighbour moves in upstairs. The neighbour is a publisher named Shep, played by James Stewart.
Gillian learns that Shep is set to marry her college nemesis and decides to stop the wedding. Using her magical cat Pyewacket, the manhattanite witch puts a love spell on Shep. Things become complicated when she begins to fall for the man herself – unfortunately for Gillian witches who fall in love lose their powers. She must decide what is really important to her and the life she wants to live.
Beloved for generations, this movie is a piece of pop culture history. Those who love it, LOVE it, definitely worth a watch.
13) Spirited Away
Finishing the list with another legendary Studio Ghibli movie, Spirited Away (2001) is probably the most famous film from master director Hayao Miyazaki. This critically claimed piece follows 10 year old Chihiro, a little girl who is apprehensive as her family move to a new city.
As the film goes on she loses her parents and ends up in a strange land of spirits. Chihiro meets Haku who informs her she must find her parents and leave or else they will be stuck there forever. The film is centred around a bath house ruled by evil old witch Yubaba, who steals Chihiro's name and puts her to work as 'Sen'. During her time here she meets spirits, demons and gods.
This movie is truly a masterpiece, featuring stunning artwork, a 5* soundtrack and flawless story telling. A must watch for any Ghibli fan.